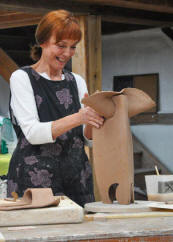 Judith's Obituary


Judith Thompson Duff, 76, of Brevard passed away at home surrounded by family, Thursday, March 4, 2021.
A native of Macon, Ga., she was the daughter of the late Lillie Mae Jolley Thompson and the late Augustus Thompson. She was also preceded in death by her grandson, Dominic Derby.
Her loving survivors include her husband, Royle Duff; their children, Angela Derby (Michael), Keri Zink (Billy), Camille Burwell (Thomas), and John Duff (Erica); grandchildren, Bryan Derby (Lindsay), Alexandria Quievryn (Timothy), Cullen Derby, Liam Zink, Dylan Zink, Ellery Zink, Keegan Burwell, McKenna Burwell, and Braden Burwell; great-grandchildren, Everest Quievryn and Charlotte Derby; and her sister, Turea Stewart.
Born in Macon, Ga., Atlanta was her home for most of her early life. She was exceptionally creative, even as a young child, focusing on several different artistic mediums throughout her life. She attended the University of Georgia, pursuing a degree in biology. She was married to Royle in Atlanta in 1965. As the family grew, job changes for Royle led them to relocate to Macon. She continued to pursue her art, mostly as a watercolorist, while they raised four children. She completed her biology degree while also obtaining a fine art degree at Wesleyan College in Macon.
During her time at Wesleyan, she took a pottery class that inspired her greatly, and, in time, she became a leader in wood-fired ceramics and a mentor to many potters worldwide. Her love of nature motivated the family to camp often including backpacking trips in the Shining Rock Wilderness area. As she became weary of the Georgia heat and humidity, it was clear that relocation to the Appalachian Mountains would be a positive change. Moving to Brevard in 1985 gave her the opportunity, driving daily over the mountain to Clyde, N.C. to further her craft in the clay program at Haywood Community College. She became a full-time studio potter in 1991.
Those who knew her watched her talents flourish as her organic clay shapes and unique surfaces developed and changed, always aspiring to create something unique and improved. Her wood-fired work, preserved a signature, recognizable trait influenced by nature and Japanese culture, throughout her many years of production. She wished for her creations to be used and enjoyed daily and somehow cause the world to be imagined and celebrated in the shape of a simple pot. She accomplished this and much more, touching many lives.
She and Royle traveled the world together, including eight trips to Japan while she studied and taught, impacting others while sharing her passion, a truly selfless spirit. She was a beautiful, gracious person inside and out, beloved by many. Her light shone very brightly. While her mark on our lives will only flourish, her presence will be greatly missed.
In lieu of flowers, the family requests donations to Fisher Center for Alzheimer's Research Foundation at http://www.alzinfo.org, or the North Carolina Pottery Center at http://www.ncpotterycenter.org, be considered.
A memorial service will be planned at a later date.
To leave a condolence or memory for the family of Judith Thompson Duff, visit "obituaries" at http://www.moore-fh.com.
Moore-Blanchard Funerals & Cremations is honored to care for the family.